Details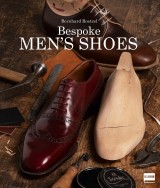 ---
Bespoke Men's Shoes
1. Aufl.
6,99 €

Verlag:
Ullmann Medien
Format:
EPUB
Veröffentl.:
06.09.2022
ISBN/EAN:
9783741526862
Sprache:
englisch
Anzahl Seiten:
214
Dieses eBook enthält ein Wasserzeichen.
Beschreibungen
Shoes are the basis for a good appearance. Handmade bespoke shoes guarantee well-being with every step and are at the same time a perfect example of a sustainable product. Because bespoke shoes are still made exclusively in handicraft businesses today. No matter where and how big the workshop is, the working techniques, tools and raw materials are the same everywhere. Every craftsman has only one goal: the perfect shoe for his customer - whether boots, patent leather shoes or slippers.
"Bespoke Men's Shoes" shows how a pair of shoes are made in the workshop of the Berlin bespoke shoemaker Korbinian Ludwig Hess is created - in all details, from raw lasts to finished polished shoes. In addition, the book offers a lot of interesting facts about shoe topics, fit and shoe care and provides important information and addresses for everyone who dreams of bespoke shoes.
Foreword
Introduction
History
Makes
The Fit
Shoemakers
Measurements
Lastmaking
The Upper
Raw Materials
Shoe Styles
Construction
Care & Repairs
Appendix
Bernhard Roetzel is a German menswear writer, journalist, photographer and speaker. His first book "Gentleman. A Timeless Classic" has been translated into 20 languages. Bernhard Roetzel contributes regularly to a number of international magazines and blogs and publishes weekly on his blog www.feineherr.de (German language) and www.feineherr.com (English). Bernhard Roetzel can be booked as keynote speaker and lecturer.
Diese Produkte könnten Sie auch interessieren:
Keine Produktempfehlungen vorhanden.